Contact Us At: (724) 863-7500 or (800) 775-7111
Address: 12239 U.S. Route 30 North Huntingdon, PA 15642
Royal Caribbean Cruise Line
Radiance of the Seas
11 night Alaska
Cruise and Tour
Wilderness Frontier
Explorer
June 15 - 26, 2018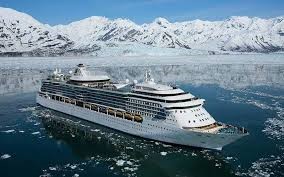 Price Includes:
North bound 7-night Alaska Cruise departing Vancouver to Seward and a 4 night Alaska land tour with an included Tundra Wilderness Tour in Denali National Park.
Ocean view Stateroom is $2431.19 Rates are based on double occupancy and are per person. Flights for this trip are additional and cost of ticket is subject to rate on date of purchased.
A $500.00 per person deposit is required by November 1, 2018 to confirm your reservations, plus the cost of optional insurance.
Cancellation insurance is strongly recommended should be paid at time of deposit. Ask for pricing.
*Call us for single occupancy stateroom pricing and additional category options.
Final payment is due Jan 22, 2018. This trip is totally non-refundable once deposited. US passport is required and must be valid
Space is limited call today at
724-863-7500 or 800-775-7111
leisure@holidaytvl.com
The Radiance of the Seas:
This ship has acres of glass enclosing eh nine-story central atrium with elevators facing the sea so you will never be at a loss for an incredible view.
There are 9 amazing restaurants on the Radiance and many options for entertainment such as Casino Royal, Broadway-style shows and the Colony Club with self-leveling pool table.
The Radiance also has 3 pools, 3 whirlpools and an adults only retreat at the Solarium. There is a complimentary youth program and a nursery for babies and tots.
Something for everyone on the Radiance of the Seas!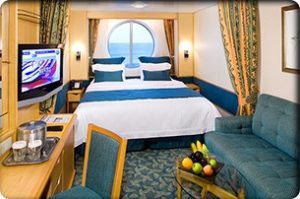 Ocean view stateroom
This stateroom has 2 twin beds that convert to a queen-size bed. Private bathroom with show. Sitting area with desk and flat screen tv. Also a large closet and storage for personal items and luggage.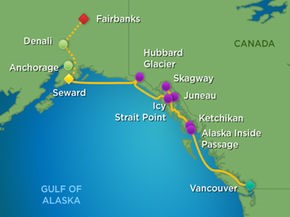 June 15 ~ Arrive Vancouver and welcome aboard the Radiance of the seas. You can watch the sunset as we sail out of the beautiful city of Vancouver.
June 16 ~ Cruising the Inside Passage. The Inside Passage embodies the best of Alaska's pristine nature and rugged beauty. The wildlife, rainforest shrouded in mist, and the majesty of the Hubbard Glacier.
June 17 ~ Ketchikan is the gateway to Misty Fjords National Monument, whose landscapes and dramatic seascapes can only be reached by plane or boat.
June 18 ~ Icy Strait Point Alaska. The Huna Tlingit welcome visitors to Chichagof Island, where you can experience their rich culture and unspoiled wilderness.
June 19 ~ Juneau is surrounded by fjords, forest and snow-capped mountains, Juneau is one gorgeous state capital. Its historic downtown harkens back to its gold-rush origins and you can still pan for gold.
June 20 ~ Skagway is where the great Klondike Rush lives on in Skagway's charming downtown of restored 19th-century buildings.
June 21 ~ Hubbard Glacier is 76 miles long, 7 miles wide and 350 feet above the water line where it meets the bay. Watch as massive chunks of ice crash into the bay, a process known as calving that the Tlingit people call "White Thunder."
June 22 ~ Arrive Seward and travel in the deluxe motor coach from the port to Anchorage, where you'll have time to stroll around the big-city downtown and enjoy an early lunch on your own. Then it's on to Denali. From 5:30 p.m., Denali is yours to discover. There are hiking trails around the Visitor Center and on the 20-acre property that surrounds your lodge
June 23 ~ Denali - Start your day venturing deep into Denali National Park, scouting the forest and tundra for native wildlife, on the Tundra Wilderness Tour. After your tour, the wilderness is yours to explore. Your Adventure Specialist can book you on an optional flightseeing trip, with up-close views of the great mountain, or on a guided hike.
June 24 ~ Denali to Fairbanks - The early morning is open for strolling the lodge trails, enjoying the views, or an optional excursion. There's time to peruse the exhibits at the park visitor center before boarding the glass-domed cars of the Wilderness Express train for the journey north to Fairbanks. From 8:30 p.m., Fairbanks is yours to discover. The hub of the interior has a lively downtown where locals and visitors alike hang out in the restaurants and bars and waterfront promenade.
June 25 ~ Fairbanks, Discover the sights and heritage of the Golden Heart City when you pan for gold at the historic Gold Dredge 8 mining operation and cruise the Chena River on an old-fashioned sternwheeler. From 3:00 p.m., your time is your own. Enjoy an optional excursion to a traditional salmon bake or spend an exciting evening flying into the Arctic Circle and visiting a remote northern settlement.
June 26 ~ sadly your trip comes to an end. Your Adventure Specialist will make sure you get to the airport on time.
"To the lover of wilderness Alaska is one of the most wonderful countries in the world"
~ John Muir