California Dreamin' Northern California By Design
June 9 - 17, 2023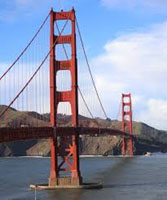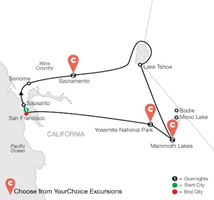 ITINERARY
JUNE 9 ARRIVE IN SAN FRANCISCO
Welcome to San Francisco! At 6 pm, meet your Tour Director and traveling companions for a welcome drink.
June 10 SAN FRANCISCO–SAUSALITO–SONOMA–SACRAMENTO
SAUSALITO Free time to explore shops and galleries. SONOMA Orientation tour and free time for lunch on your own. Guided tour of the wine caves and a tasting of award-winning sparkling wines at the Gloria Ferrer Caves & Vineyard. SACRAMENTO Free time this evening. Breakfast
June 11 SACRAMENTO
SACRAMENTO City sightseeing tour. Excursions include one of the following activities of your choice:
DELVE: Prison Blues with the Man in Black Join an excursion to the town of Folsom for a visit to the Folsom Prison Museum. Here, you'll see how country music-legend, Johnny Cash, made a big impact on the town and the inmates at Folsom Prison as he performed Folsom "Prison Blues" in 1968. Learn about Cash's contributions to the town with exhibits and artifacts chronicling the nearly 140-year-old prison. Also spend time on the Folsom Cash Art Trail, where public art celebrates and honors Cash's contributions to Folsom. Return to Sacramento for a guided walking tour of Old Town Sacramento and dinner at a local restaurant.
TASTE: Hometown Roots
A Local Roots Food Tour connects you with Sacramento's restaurants, chefs, architecture, and history with a 3-hour walk through this thriving California culinary destination. Enjoy tasting farm-to-table signature entrees from some of Midtowns most cherished restaurants. While on the walk, discover the stories behind the murals and meet an artist of one of these famed pieces of art.
GAZE: Off the Rails


Discover Sacramento's historic role in the California Gold Rush, the Pony Express, and America's first transcontinental railroad, preserved in Old Sacramento and the California State Railroad Museum. Enjoy free time to explore the California State Railroad Museum, followed by a 1½-hour scenic ride and happy hour on the historic River Fox train. Next, take a nostalgic guided walking tour of Old Town Sacramento, including dinner at a local restaurant. Breakfast Dinner
June 12 SACRAMENTO–LAKE TAHOE–MAMMOTH LAKES
SACRAMENTO Scenic ride along the "Most Beautiful Drive in America" en route to Lake Tahoe.
LAKE TAHOE Scenic drive continues and includes photo stops at viewpoints and free time in Heavenly Village. MAMMOTH LAKES Guided sightseeing. Free time this evening. Breakfast
June 13 MAMMOTH LAKES
MAMMOTH LAKES YourChoice Excursions include one of the following activities of your choice:
STROLL: Strike Gold in a Ghost Town
Take a guided walking tour of Bodie State Historic Park to discover the history and colorful characters who called this once-bustling gold-mining town (pop. 10,000) home. Walk down the deserted streets, seemingly frozen in time with furnishings and goods remaining within the walls of the homes and general store. Peer inside the windows of the abandoned houses, local church, saloon, jailhouse, and other preserved structures that evoke the bygone days of the Wild West. Enjoy a box-lunch during your excursion.
SOAR: Elevate Your Spirit
Feel your spirit soar with an aerial ride on the Panorama Gondola to the summit of Mammoth Mountain (elev. 11,053 ft.). Enjoy lunch at Eleven53 Café with sweeping views and discover the geological history, hearty culture, and natural wonders of the Sierras at the interpretive center and learning stations here. Spend free time hiking in search of wildflowers, wildlife, or the serenity of the alpine terrain and pristine lakes.
FLOAT: A Walk on the Moon
Embark on a 4-hour excursion to Mono Lake, resembling a lunar landscape with its surreal Tufa tower limestone formations rising from the glassy waters of one of Earth's oldest living lakes. Called the "Dead Sea of California," Mono Lake is actually teeming with life, including trillions of brine shrimp that provide an unlimited buffet for nesting California Gulls and other migratory birds traveling the Pacific Flyway. Take a guided kayak tour with a Naturalist Guide, and glide along the striking shoreline to the Rush Creek delta for dynamic views of the Sierra Nevada Mountains and volcanic mountain ranges. You'll paddle to a little-known spot on shore to explore the extraordinary ecosystem here, before concluding your day with stunning views of the Eastern Sierra, jutting more than 13,000 feet (3962.4 m) into the sky. Enjoy a box-lunch during your excursion. Free time this evening. Breakfast Lunch
June 14 MAMMOTH LAKES–YOSEMITE NATIONAL PARK
YOSEMITE NATIONAL PARK Explore Yosemite on a scenic drive through the park, including photo stops and free time to visit the Yosemite Valley Visitor Center. Free time this evening for the first of three nights at the luxury Tenaya Lodge at Yosemite resort. Breakfast
June 15 YOSEMITE NATIONAL PARK
YOSEMITE NATIONAL PARK Excursions include one of the following activities of your choice:
GAZE: Westward, Ho!
Get up close to the wonders and wildlife of Yosemite on a guided 2-hour tram tour. Return to the park this morning and join a Park Ranger to discover the natural history and the stories of Native Peoples and new settlers who moved west to a wilderness like no other. NOTE: As of January 2022, the National Park Service announced it will not be operating the tram tours indefinitely. As a result we will not be able to include this choice excursion.
TREK: Yosemite, Naturally
Feel your senses awaken with a nature walk in the place where John Muir discovered "Nature's peace will flow into you as sunshine into trees." Your Naturalist Guide will show you the breathtaking views of the Yosemite region, while encountering the fantastic flora and fauna of this magical wilderness.
STROLL: A Kaleidoscope in Black and White
Photography buffs and aspiring shutterbugs won't want to miss this private guided photography tour courtesy of the Ansel Adams Gallery. Whether you have your own camera equipment or want to snap your own masterpieces with your Smartphone, you'll find your focus with photography guides to escort and instruct you in the best vantage points, hidden locations, and perfect time for the best light. Free time late afternoon and evening to enjoy the resort. Breakfast
June 16 YOSEMITE NATIONAL PARK
YOSEMITE NATIONAL PARK Free time this morning and afternoon to enjoy Tenaya Lodge at Yosemite. Consider hiking, electric-assist mountain biking, or a visit to the Ascent Spa and Fitness Center. A farewell dinner this evening followed by a private stargazing excursion with a local expert. Breakfast Dinner
June 17 YOSEMITE NATIONAL PARK–SAN FRANCISCO This morning, return to San Francisco International Airport or Marriott Marquis hotel. Please schedule departing flights after 4pm.
Please call Holiday Travel to reserve your space. A $250.00 per person nonrefundable deposit is required. Air fare, Insurance and gratuities for the driver and tour conductor are additional. Insurance that must be paid at time of deposit of $299.00
Holiday Travel International
12239 US Rt. 30 North Huntingdon PA 15642
800-775-7111 or 724-863-7500