Alaska Cruise & Land Tour
**STARTING AT $964.19 PER PERSON INSIDE CABIN**
AIRFARE NOT INCLUDED
AUGUST 21 OR AUGUST 26 TO SEPTEMBER 2, 2022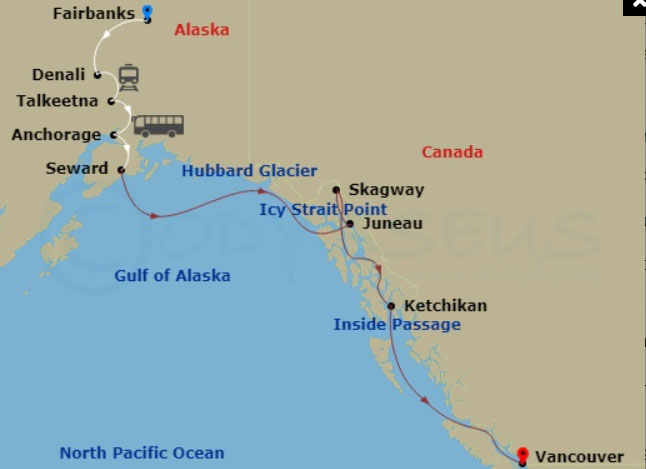 2 OPTIONS TO CHOOSE from Land & Cruise, or Cruise Only!
**Prices subject to change!** Airfares fluctuate in price based on capacity
Airfare is not included an the price is determined at time of purchase
NATIONAL PARK EXPEDITION– STARTING AT $3121.19 PER PERSON
BASED ON DOUBLE OCCUPANCY
Aug 28 Sunday: Juneau: Maneuver into the Gastineau Channel and dock in Alaska's capital city, Juneau. Take advantage of the included Juneau walking tour highlighting the history of the Juneau Douglas Mines, museums, and a visit to the state capitol.
Aug 29 Monday: Skagway: This historic community still feels like an 1898 boom town. The voices coming from the saloons still echo in the air, while the legend of outlaw "Soapy Smith" lives on in stories.
Aug 30 Tuesday: Icy Strait Point: Just 22 miles southeast of Glacier Bay National Park, Icy Strait Point is the only wilderness port in Alaska and has been the homeland of the Hoonah Tlingit natives for thousands of years.
Aug 31 Wednesday: Ketchikan: Known as the "Salmon Capital of the World" and "Alaska's First City", Ketchikan is a vibrant seaside community. Today's included walking tour features stops at the Totems of Whale Park, historic Creek Street, and the Salmon Ladder.
Sept 01 Thursday: Inside Passage: Our final day on board will include views of British Columbia and Alaska's coast. Be on the lookout for humpback whales, orca, and dolphin.
Sept 02 Friday: Travel Home: As dawn breaks, we'll sail under the Lions Gate Bridge and dock at Canada Place Pier. After the disembarking the ship, pass through Canadian customs before being transferred to the airport for our flight home.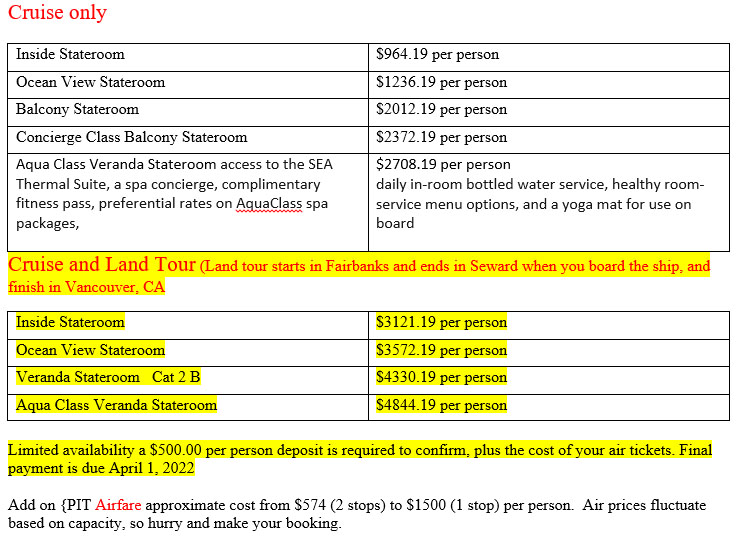 Aug 21, Sunday: Upon arrival in Fairbanks, a transfer will be provided to your Fairbanks hotel where your Tour Director will greet you. The rest of the day is yours to discover Fairbanks, or relax at your Alaskan lodge. Overnight at Sophie's Station Suites. * Tours and activities as described, other than optional activities and meals, are included in your Cruise tour vacation. Tour arrival times are tentative and are subject to change. All properties are subject to change for properties of a similar quality
Aug 22, Monday: Fairbanks: Explore the city's natural beauty and landmarks on the Fairbanks City Tour, after which you'll cruise down the Chena River on the Riverboat Discovery sternwheeler. From 4:30 p.m., Fairbanks is yours to explore. Discover the city's gold-rush roots and meet some locals on a midnight sun stroll, or consult with your Tour Director to book an optional land excursion. Overnight at Sophie's Station Suites.
Aug 23 Tuesday: Fairbanks – Denali: Embark on a luxurious journey aboard the Wilderness Express®, a glass-domed railcar, to Denali. Then immerse yourself in the beauty of Alaska's natural landscape as you head deep into Denali National Park on the Tundra Wilderness Tour. After your tour, Denali is yours to discover. Explore the trails that surround your Alaskan Lodge. Overnight at Denali Park Village.
Aug 24 Wednesday: Denali – Anchorage: Set off on a scenic drive to Anchorage aboard your deluxe motor coach. From 6:30 p.m., the city is yours to discover. Anchorage's long summer days mean more time to explore by day and sample the diverse culinary fare long into the evening. Overnight at the Anchorage Marriott.
Aug 25 Thursday: Anchorage – Seward: In the morning, visit the Alaska Native Heritage Center and learn about the native cultures that call Alaska home. Enjoy free time for lunch on your own before boarding your deluxe motor coach for the drive to historic Seward. From 5:00 p.m., Seward is yours to discover. You can meet the locals at Seward's watering holes, where you can savor Alaskan seafood fresh from the ocean and direct to your plate, or book an optional land excursion, such as a dog sled ride on a glacier. Overnight at Seward Windsong Lodge.
Aug 26 Friday: Seward: In the morning, meet your Tour Director and explore the city before embarking on the Kenai Fjords National Park Cruise. Marvel at the park's abundant wildlife and glaciers on a 100-mile, round-trip, fully narrated adventure. In Seward, join the Celebrity Millennium for your 7-night cruise to Vancouver.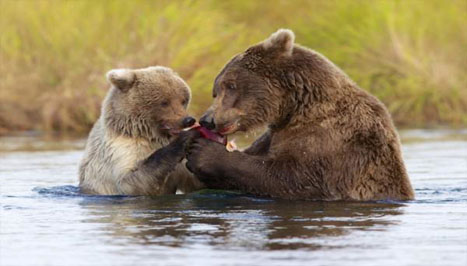 Aug 27 Saturday: Hubbard Glacier: Today's voyage takes us into Yakutat Bay and alongside the Tongass National Forest, followed by Disenchantment Bay and the impressive ice wall of Hubbard Glacier. The largest tidewater glacier in Alaska has a face that extends over 6.5 miles in length. Stand in awe as glacier ice may come crashing down into the ice-choked waters below at any moment.

Post night stay in Vancouver, BC cost is $
Holiday Travel International
12239 US Rt. 30 North Huntingdon PA 15642
800-775-7111 or 724-863-7500